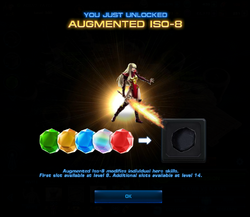 "After two years of studying the effects of Iso-8 in the lab, Hank Pym and Reed Richards have discovered how to engineer Iso-8 that can safely augment heroes' natural abilities. This Augmented Iso-8, or A-Iso, can be attached to a hero's move, giving it new properties. Each Augmented Iso-8 can only be equipped to a certain kind of move, however. One might only modify Unarmed attacks, while another might modify only Energy attacks. Certain Augmented Iso-8 can only be used by a specific hero to modify one of their signature moves."
— Introducing Season 2: Chapter 4 Developer Notes
Augmented Isotope-8 (or Augmented Iso-8, A-Iso, A-Iso-8) is used to enhance a hero's move set. Unlike the original Isotope-8, Augmented Iso-8 is similar to Empowered Isotope-8 and adds special effects when equipped, but instead of gaining a new Passive, the Augmented Iso-8 affects the moves of the Hero.
Each of a hero's four move slots has one slot for an Augmented Iso-8. At level 8, a hero can equip one Augmented Iso-8 onto one of their moves, unlocks one more each at levels 10, 12, and 14. At level 14, they can equip to all four moves. This can go into any move they have unlocked, but they cannot have more than one move equipped at a time. However, players can safely unequip Augmented Iso-8 from a move at any time, allowing them to equip a different move. This gives players a chance to experience Augmented Iso-8 early on, while still creating a powerful incentive to reach max level.
Much like the Empowered Iso-8, inserting an Augmented Iso-8 is reversible. When removed, the Iso-8 simply returns to your inventory to be used by later. Hint: You can move A-Iso from one hero to another when you click on equip and on the A-Iso screen click on the equipped tab, you can drag the one you want onto the current hero. Like E-Iso, A-Iso cannot be socketed into the Armory as they don't have PVP Bonus.
Augmented Iso-8 can be acquired from Store, Story: Season 2 Deploy Missions, Boss and Epic Boss rewards, and some Daily Mission boss rewards.
Each Augmented Iso-8 can be sold for 1,000

Silver.
Types
Augmented Iso - Can be slotted to hero actions depending on type/s (dropped from Season 2 Deploy Missions and Daily Mission boss rewards, or paid for with Command Points or Gold)
Character Restricted Augmented Iso - Can only be slotted to certain hero actions (dropped from Boss and Epic Boss battles and Daily Mission boss rewards, or paid for with Gold)
Augmented Iso
Character Restricted Augmented Iso
Character Restricted Augmented Iso
Icon
Name
Effects
Hero / Actions
Cost
Location

Rattling Maneuver Augmented Iso-8

Rattling Maneuver

Amazing Spider-Woman
Magnetic Maneuver
5

Perpetual Augmented Iso-8

Perpetual

Juggernaut
I'm the Juggernaut!
20
LE
Spec Ops 28
Spec Ops 29

Disengaging Augmented Iso-8

Disengaging

Cannonball
Cleared For Take Off
20
LE
Spec Ops 28
Spec Ops 29

Emerging Augmented Iso-8

Emerging

Moonstone
Big Bang
20
LE
Spec Ops 28
Spec Ops 29

Toasting Augmented Iso-8

Toasting

Volstagg
Elixir of Recovery
20
LE
Spec Ops 28
Spec Ops 29

Calamitous Augmented Iso-8

Calamitous

Any Hero
All Enemies
20
LE
Spec Ops 28
Spec Ops 29

Speeding Augmented Iso-8

Speeding

Nova
Charged Flyby
20
LE
Spec Ops 28
Spec Ops 29

Naturopathic Augmented Iso-8

Naturopathic

Shanna
Nature's Bounty
20
LE
Spec Ops 28
Spec Ops 29

Lambent Augmented Iso-8

Lambent

Blade
Bleeding Edge
20
LE
Spec Ops 28
Spec Ops 29

Strong-arming Augmented Iso-8

Strong-arming

Mr. Fantastic
Stretch Punch
20
LE
Spec Ops 28
Spec Ops 29

Waylaying Augmented Iso-8

Waylaying

Nightcrawler
Ambush
20
LE
Spec Ops 28
Spec Ops 29

Mine Master Radiant A-Iso

Mine Master

Fixer
Blast Mine
20
LE
Spec Ops 32

Rioting Augmented Iso-8

Bloody Riot

Hybrid
Riot
15
Symbiotic Lockboxes

Impending Riot Augmented Iso-8

Impending

Hybrid
Riot
10
Symbiotic Lockboxes

Pinned Down Augmented Iso-8

Pins and Needles

Hybrid
Riot
Agony
5
Symbiotic Lockboxes

Agonizing Augmented Iso-8

Malicious Intent

Hybrid
Riot
Agony
5
Symbiotic Lockboxes

Hunger Pangs Augmented Iso-8

Just a Taste

Hybrid
Agony
10
Symbiotic Lockboxes

Quilled Augmented Iso-8

Serrated

Hybrid
Agony
Lasher
10
Symbiotic Lockboxes

Infectious Augmented Iso-8

Creep Spread

Hybrid
Phage
15
Symbiotic Lockboxes

Debilitating Augmented Iso-8

Sapping Infestation

Hybrid
Phage
15
Symbiotic Lockboxes

Fatiguing Augmented Iso-8

Wilting Infestation

Hybrid
Phage
5
Symbiotic Lockboxes

Infested Augmented Iso-8

Creeping Sensation

Hybrid
Lasher
15
Symbiotic Lockboxes

Shifting Augmented Iso-8

Shifting Sides

Hybrid
Lasher
10
Symbiotic Lockboxes

Lashing Augmented Iso-8

Lashing Out

Hybrid
Lasher
5
Symbiotic Lockboxes

Thrashing Augmented Iso-8

Inevitable

Hybrid
Lasher
10
Symbiotic Lockboxes

Iron Augmented Iso-8

Iron Will

Colossus
Steel Curtain
19
LE
Season 2
Mission 1.1

Psychic Shock Augmented Iso-8

Psychic Shock

Psylocke
Psychic Knives
19
LE
Season 2
Mission 1.2

Surprising Attack Augmented Iso-8

Surprise Attack

Union Jack
Over the Top
14
LE
Season 2
Mission 1.3

Overwhelming Augmented Iso-8

Overwhelming

Captain Britain
Smashing
19
LE
Season 2
Mission 1.4

Restful Atonement Augmented Iso-8

Restful Atonement

Black Knight
Atonement
19
LE
Season 2
Mission 1.5

High Card Augmented Iso-8

High Card

Gambit
Ace of Spades
9
LE
Season 2
Mission 1.6

Poised Augmented Iso-8

Poised

Hercules
Gift of Battle
19
LE
Season 2
Mission 2.1

Puncturing Augmented Iso-8

Misfortune

X-23
Blades of Rage
19
LE
Season 2
Mission 2.2

Flaring Augmented Iso-8

Solar Flare

Vision
Solar Jewel
14
LE
Season 2
Mission 2.3

Anaphylactic Augmented Iso-8

Anaphylaxis

Wasp
Bioenergy Blast
19
LE
Season 2
Mission 2.4

Slamming Augmented Iso-8

Slamming

Hank Pym
Goliath Punch
19
LE
Season 2
Mission 2.4 Epic

Cagey Augmented Iso-8

Hangin' Tough

Luke Cage
Bodyguard
14
LE
Season 2
Mission 2.5

Breaking Augmented Iso-8

Misfortune

Scarlet Witch
Probability Field
14
LE
Season 2
Mission 2.6

Building Augmented Iso-8

Fortune

Scarlet Witch
Probability Field
14
LE
Season 2
Mission 2.6 Epic

Painful Augmented Iso-8

Pain Train

Shatterstar
Blade Maelstrom
14
LE
Season 2
Mission 3.1

Charged Augmented Iso-8

Charged

Magik
Soulsword
14
LE
Season 2
Mission 3.2

Ragged Augmented Iso-8

Manriki

Daredevil
Manrikigusari
19
LE
Season 2
Mission 3.3

Formican Augmented Iso-8

Ants! Ants! Ants!

Hank Pym
Army of Ants
19
LE
Season 2
Mission 3.4

Selective Augmented Iso-8

Selective Burning

Sunfire
Kouen Banjou
19
LE
Season 2
Mission 3.5

Sensing Augmented Iso-8

 

PreEVA

Fantomex
Diabolique
19
LE
Season 2
Mission 3.5 Epic

Loaded Augmented Iso-8

Tactical Planning

Punisher
Walking Armory
14
LE
Season 2
Mission 3.6

Upgraded Augmented Iso-8

Fatal Fender

Punisher
Battle Van
14
LE
Season 2
Mission 3.6 Epic

Victorious Augmented Iso-8

Victorious

Union Jack
V for Victory
14
LE
Season 2
Mission 4.1

Endothermic Augmented Iso-8

Endothermic

Red Hulk
Gamma Bomb
19
LE
Season 2
Mission 4.2

Valhallan Augmented Iso-8

Valhallan

Valkyrie
Sacrificial Blessing
14
LE
Season 2
Mission 4.3

Worthy Augmented Iso-8

Worthy

Thor
Inspire Bravery
14
LE
Season 2
Mission 4.3 Epic

Penitent Augmented Iso-8

Penitent

Angel
Absolution
19
LE
Season 2
Mission 4.4

Virulent Augmented Iso-8

Virulent

Angel
Pestilence
19
LE
Season 2
Mission 4.4

Tempestuous Augmented Iso-8

Tempest

Thundra
Cyclone Smash
19
LE
Season 2
Mission 4.5

Reflexive Augmented Iso-8

Reflexive

Black Panther
Vibranium Daggers
19
LE
Season 2
Mission 4.6

Arachnid Augmented Iso-8

Arachnid

Spider-Man
Web Slingshot
19
LE
Season 2
Mission 4.6 Epic

Stabilizing Augmented Iso-8

Energy Focus

Havok
Plasma Wave
14
LE
Season 2
Mission 5.1

Advantageous Augmented Iso-8

Personal

Ares
Personal War
9
LE
Season 2
Mission 5.2

Nutty Augmented Iso-8

More Nuts!

Squirrel Girl
Nuts to This
19
LE
Season 2
Mission 5.3

Controlling Augmented Iso-8

Controlling

Emma Frost
Psychic Tap
19
LE
Season 2
Mission 5.4

Shocking Augmented Iso-8

Electrical Current

Thor
Empowering Strike
14
LE
Season 2
Mission 5.5

Raging Augmented Iso-8

Berserking

Sif
Inspire Courage
19
LE
Season 2
Mission 5.5 Epic

Gifted Augmented Iso-8

Guffaw

Hercules
Gift of Battle
19
LE
Season 2
Mission 5.6

Boxing Augmented Iso-8

Mean and Green

She-Hulk
Punch
19
LE
Season 2
Mission 5.6 Epic

Sighted Augmented Iso-8

Upgraded Interface

Vision
Melee Interface
14
LE
Season 2
Mission 6.1

Fractured Augmented Iso-8

Bloody Knuckles

Moon Knight
Fist of Khonshu
14
LE
Season 2
Mission 6.2

Ferric Augmented Iso-8

Lifting Spirits

Iron Fist
Healing Chi
Praying Lotus
19
LE
Season 2
Mission 6.3

Feline Augmented Iso-8

Jinx

Black Cat
Unlucky Strike
14
LE
Season 2
Mission 6.3 Epic

Damning Augmented Iso-8

Inquisition

Ghost Rider
Damnation Chains
19
LE
Season 2
Mission 6.4

Ritualistic Augmented Iso-8

Ritualism

Doctor Voodoo
Voodoo Incantation
19
LE
Season 2
Mission 6.5

Ridiculous Augmented Iso-8

Share the Love

Deadpool
Sharp Pointy Things
19
LE
Season 2
Mission 6.6

Extricating Augmented Iso-8

Hard Reset

Rescue
Status Reset
19
LE
Season 2
Mission 6.6 Epic

Trampling Augmented Iso-8

Trample

Black Knight
Valinor
19
LE
Season 2
Mission 7.1

Reckless Augmented Iso-8

Reckless

Daredevil
Snap Kick
14
LE
Season 2
Mission 7.2
Mission 7.2 Epic
Mission 8.4 Epic
Mission 10.2 Epic

Mangling Augmented Iso-8

Mangling

Wolverine
Feral Ambush
14
LE
Season 2
Mission 7.3

Dazing Augmented Iso-8

Dazing

Spider-Woman
Brawl
Stonebreaker
14
LE
Season 2
Mission 7.4

Concussing Augmented Iso-8

Concussed

Captain America
Shield Bash
14
LE
Season 2
Mission 7.5

Enduring Augmented Iso-8

Ceaseless

Wonder Man
Wonders Never Cease
19
LE
Season 2
Mission 7.6
Mission 7.6 Epic
Mission 8.6 Epic
Mission 10.6 Epic

Scorching Augmented Iso-8

Combustable

Iron Man
Missile Barrage
9
LE
Season 2
Mission 8.1

Cat-astrophic Augmented Iso-8

Feline Fury

Tigra
Frenzy
14
LE
Season 2
Mission 8.2

Desecrating Augmented Iso-8

Desecration

Daimon Hellstrom
Purifying Flames
14
LE
Season 2
Mission 8.3

Phasing Augmented Iso-8

Phasing

Dr. Strange
Shield of the Seraphim
19
LE
Season 2
Mission 8.4

Energizing Augmented Iso-8

Energizing

Doctor Voodoo
Evanodor Compatriot Boost Spell
14
LE
Season 2
Mission 8.5

Buckshot Augmented Iso-8

Shrapnel

Domino
Aerodynamite
14