Jurassic World: Dominion Dominates Fandom Wikis - The Loop
Play Sound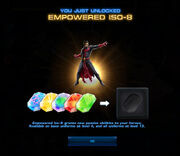 Empowered Isotope-8 (or Empowered Iso-8, E-ISO, E-Iso-8) is used to enhance the agent or a hero. Unlike the original Isotope-8, Empowered Iso-8 adds special effects when equipped.
Empowered Iso-8 can be slotted into a hero's or agent's uniform within the team management screen. Heroes have one slot available at Level 4, while a second slot becomes available after the hero reaches Level 13. However, Alternate Uniforms only have ONE Empowered slot available (except Modern Hyperion, and Squirrel Girl: Howard Cosplay), and it is only unlocked at Level 13.
Unlike standard Iso-8, inserting an Empowered Iso-8 is reversible. When removed, the Iso-8 simply returns to your inventory to be used by later. You can move E-Iso from one hero to another when you click on equip on a hero or agent screen and on the E-Iso screen select the equipped tab. This obviously removes the E-Iso from the character that had the E-Iso equipped before. E-Iso cannot be socketed into the Armory as they don't have PVP Bonus.
In iOS version, Empowered Iso-8 have +355 ATK and +355 DEF PVP Bonus. Unlike in Facebook version, Store has one category for Empowered Iso-8 (lacks Class Restricted Iso and Character Restricted Iso but it's indicated with Class on bottom right of image of an item).
Empowered Iso-8 can be acquired from Store, Heroic Battle rewards, and some Daily Mission boss rewards.
Each Empowered Iso-8 can be sold for 1,000

Silver, except for Combatant Empowered Iso-8 which sells 200,000

Silver.
A similar type of customization that is only available for heroes and not for the agent is the use of Augmented Isotope-8.
Types
Empowered Iso
Class Restricted Iso
Character Restricted Iso (Agent)
Character Restricted Iso (Agent)
Icon
Name
Effects
Cost
Location

Captain's Courage Empowered Iso-8

Captain's Courage

30
LE

Hawkeye's Heroics Empowered Iso-8

Hawkeye's Heroics

30
LE

Thor's Tutelage Empowered Iso-8

Thor's Tutelage

30
LE

Visionary Empowered Iso-8

On the Side of Life

30
LE

Widow's Way Empowered Iso-8

Widow's Way

30
LE

Fast Acting E-Iso-8

Fast Acting

30
LE

Witchcraftery E-Iso-8

Witchcraft

30
LE
Character Restricted Iso
Character Restricted Empowered Iso-8 with Augmented-like Effects
Black Cat's Lucky (2.3.6)
Black Widow's Adroit (2.3.5)
Daredevil's Typhlotic (2.2.2)
Dr. Strange's Enchanted (2.2.1)
Iron Fist's Masterful (Store)
Mr. Fantastic's Overclocked (2.3.1)
Phoenix's Consuming (2.3.4)
Scarlet Witch's Statistical (2.2.6)
Spider-Woman's Tantalizing (2.1.4)
Spiral's Rhythmic (2.5.5)
Cyclops' Optical (Store), Spider-Man's Tangled (2.3.6), and Thor's Dynamic (2.2.3) each augment multiple moves simultaneously.
Notes
Introduced on October 15, 2013.
When introduced, it was reported that the prices Empowered ISO were different among some players. The most likely reason for variable pricing was an attempt to see what price the market would bear. Prices were stabilized on November 5, 2013.
Community Guides
v

·

e

Empowered

Augmented

Overview • Unstable • Depleted • Gear Bonus • Research