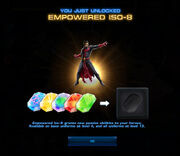 Empowered Isotope-8 (or Empowered Iso-8, E-ISO, E-Iso-8) is used to enhance the agent or a hero. Unlike the original Isotope-8, Empowered Iso-8 adds special effects when equipped.
Empowered Iso-8 can be slotted into a hero's or agent's uniform within the team management screen. Heroes have one slot available at Level 4, while a second slot becomes available after the hero reaches Level 13. However, Alternate Uniforms only have ONE Empowered slot available (except Modern Hyperion, and Squirrel Girl: Howard Cosplay), and it is only unlocked at Level 13.
Unlike standard Iso-8, inserting an Empowered Iso-8 is reversible. When removed, the Iso-8 simply returns to your inventory to be used by later. You can move E-Iso from one hero to another when you click on equip on a hero or agent screen and on the E-Iso screen select the equipped tab. This obviously removes the E-Iso from the character that had the E-Iso equipped before. E-Iso cannot be socketed into the Armory as they don't have PVP Bonus.
In iOS version, Empowered Iso-8 have +355 ATK and +355 DEF PVP Bonus. Unlike in Facebook version, Store has one category for Empowered Iso-8 (lacks Class Restricted Iso and Character Restricted Iso but it's indicated with Class on bottom right of image of an item).
Empowered Iso-8 can be acquired from Store, Heroic Battle rewards, and some Daily Mission boss rewards.
Each Empowered Iso-8 can be sold for 1,000

Silver, except for Combatant Empowered Iso-8 which sells 200,000

Silver.
A similar type of customization that is only available for heroes and not for the agent is the use of Augmented Isotope-8.
Types
Empowered Iso
Class Restricted Iso
Character Restricted Iso (Agent)
Character Restricted Iso (Agent)
Icon
Name
Effects
Cost
Location

Captain's Courage Empowered Iso-8

Captain's Courage

30
LE

Hawkeye's Heroics Empowered Iso-8

Hawkeye's Heroics

30
LE

Thor's Tutelage Empowered Iso-8

Thor's Tutelage

30
LE

Visionary Empowered Iso-8

On the Side of Life

30
LE

Widow's Way Empowered Iso-8

Widow's Way

30
LE

Fast Acting E-Iso-8

Fast Acting

30
LE

Witchcraftery E-Iso-8

Witchcraft

30
LE
Character Restricted Iso