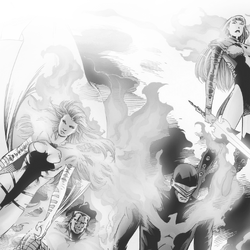 When the Phoenix Force returned to Earth, the cosmic entity had split into five pieces when it encountered a large deposit of Iso-8 near the Moon. These pieces went into five of the X-Men. Though it made these individuals more powerful, the Unstable Iso-8 in the area dampened the effects of the Phoenix Force for an unknown reason.
These five individuals were known as the Phoenix Five. They believed that the Phoenix Force bestowed in them holds the key to survival of their mutantkind. Once they have achieved to control this cosmic entity, they will have one of the most powerful forces in the universe at their command.
The Avengers on the other hand believes that the Phoenix Force destroys planets and annihilates star systems it arrives to, and that they must stop the Phoenix Force from fully manifesting onto the Phoenix Five.
In-Game Members
Heroes
All members of the Phoenix Five are available to the players as playable heroes in the game. Four of the members (Colossus, Cyclops, Emma Frost, and Phoenix) are available as Limited Edition Alternate Uniforms that were released on October 5, 2012. Magik on the other hand, is available for a Limited time as a Reward for completing the tasks in Special Operations - Avengers Vs X-Men, with her Phoenix Five Uniform as her default.
Every member of the Phoenix Five wearing their uniform can grant all Allies in battle the ability to unleash their Phoenix Potential passive Effect (with each effect unique to a member) each Round.
Enemies
The Phoenix Five first appeared as Enemy Bosses in Special Operations - Avengers Vs X-Men. All members had an Enemy-only unique Effect called the
Phoenix Five-Related
Alternate Uniforms
Effects
Gear
Supplies
Gallery
Notes
Although members of the Phoenix Five appear as Team-Up Heroes in Special Operations battles, even with their Dialogue Art using their Phoenix Five variants, they will appear in battle with whatever uniform the players have currently set them.
See Also
External Links