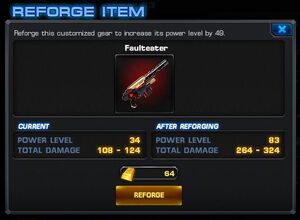 Reforging is a method to upgrade customized weapons and gadgets to the current level of the Agent by spending Gold.
Pricing
Recently after the update that provided all players the reforge option, many players have found their original variable price changed to 48 Gold. This will be the final price offered, no matter how high the power level may be increased to. For example, reforging a piece of equipment to increase its power level by 8 will be the same cost as reforging a piece of equipment's power level by 30. 
Previously, the cost of reforging a weapon or gadget was variable, with prices of 24, 32, 48, and 64 Gold being reported. The reason for variable pricing is an attempt to see what price the market will bear.
Availability
Reforging was introduced on January 17, 2013. When it was first introduced, reforging was available to only a few people at a time while Playdom rolled it out slowly. It is now fully implemented. 
Playdom's current plan is to eventually make all customized weapons reforgable.
Weapons That Can Be Reforged
All reforgable gear can now be found listed here.
NOTE: Currently (August 2014), reforging a weapon brings it up to the agent's level only, even if the weapon is normally obtained several (5, 10 or 15) levels higher than the agent's level. This means that right now obtaining a maxed-out weapon is only possible by getting it directly, not by reforging. Whether this is a bug or intentional is unknown.
Due to the stats having a difference between players depending on their Agent's Level and Equipment,
Gear stats in the Wiki are now based on a Level 300 Agent equipped with a Generalist's Kevlar Jumpsuit without any Iso-8 slotted on the Uniform and no other items that affect the stats.

Editors must refrain from changing the stats if this is not their Agent setup.

For Customized Gear in addition to the requirements above, editors must have their Customized Gear's Power Level at 300 or greater via Reforging or obtaining the Gear at the required Level. It is recommended to use obtaining gear.