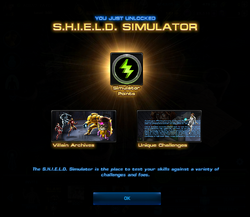 "The S.H.I.E.L.D. Simulator is divided into two areas: Challenges and Villain Archive.
Challenges provide a variety of unique combat sets designed to test the skills of both Agents and Heroes. Complete all Challenges in a set to earn rewards!
Using the Simulator to attempt Challenges requires Simulator Points. Simulator Points automatically return over time, and may be purchased in the Store.
The Villain Archive provides a brief bio for each villain, and creates a fight simulation against that villain. These do not consume Simulator Points."
— S.H.I.E.L.D. Intel
The S.H.I.E.L.D. Simulator is a feature that was launched on May 1, 2014 alongside Season 2 Chapter 5. It is a training and simulation area where players can attempt new challenges or fight specific Villains whenever they choose.
Challenges are new events that will be released periodically in the future. A challenge can be anything from 1 simulation to taking down a single villain or a chain of simulations that sometimes feature score challenges and timed fights.

Each attempt at a simulation requires use of one Simulator Point. These are similar to Challenge Points in PVP and can be recharged with time (12 hours per point) or purchased for Gold.
In the near future, new Challenges will be added, some of which will be a special set of challenges for a specific character. Completing all simulations will give a reward.
Click here for a complete list of Simulator Challenges.
In the November 18, 2015 patch, a class training feature was added to the simulator, which wields very high

rewards for the heroes who complete the training. All six classes have their own training mode and participants are restricted by class.
Dual class heroes can only train as the class they are in the team management page. The Agent can't participate in any class training sessions. Since the Agent can't participate, restricted allies must go solo for the training.
Training is divided in 3 tiers which increase in difficulty, but also in

rewarded.
The Villain Archive is a new addition to Marvel: Avengers Alliance. Many players have expressed interest in going back to fight villains they miss fighting, or villains they never fought at all since they missed the Spec Op in which that villain debuted. Now they can do so with the Villain Archive.
As an added bonus, there is a lot of information available about each villain by clicking Bio at the bottom right. Villain Archive fights are always free and do not require Simulator Points.
Defeating a villain does not grant XP to the Agent or Heroes.
List of Villains
Edit
Dialogues
Edit
Main article: S.H.I.E.L.D. Simulator/Dialogues
Sin, Doctor Octopus, Maximus the Mad and Hela are the only bosses on Villain Archive who fights with two minions.
Loki, Omega Sentinel, Magneto, Juggernaut, Sabretooth, Constrictor, Moonstone, Taskmaster, Elektra and Dr. Doom all have their lockbox hero movesets and passives.
Dr. Doom has his lockbox moveset but is a Blaster as opposed to a Tactician.
Electro keeps his

Sinister Six

passive from SO 27.2 when fought in the archive.
Living Monolith keeps his

Blessing of Osiris

passive from S2 2.6 when fought in the archive.
External Links
Edit
v

·

e

Active Challenges
Simulator Intro • Simulator Basics • Shanna Training‎‎ • Dr. Strange Set
Class Training
Blaster Training • Tactician Training • Infiltrator Training
Scrapper Training • Bruiser Training • Generalist Training
Expired Challenges
Drax Set • Rocket Raccoon Set • Gamora Set • Groot Set
Morbius Set • Hulk Set • Death Locket Diagnostics
•