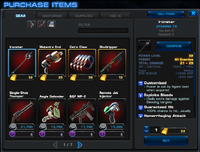 The Store is where you can buy your Agent's Gear, Uniforms, Supplies, and Iso-8. Most items are unlocked by leveling and by doing research. Items are bought using a combination of Silver

and S.H.I.E.L.D. Points

or with Gold

.
The store displays the Gear, Uniforms, Supplies, and Iso-8 tabs, inside them contain the icons, the filter bar, and eight items in one page. Selecting an item displays how many you own and the stats. Clicking the COMPARE button to compare between the items (for Gear compares with the Gear on your first slot, and for Uniforms compares with your Agent Uniform you're equipping). Gold border on the items indicated they are bought with gold. Items are shuffled every time you log-in the game. Selecting the icons in the store will only display what's under this type, and you can go back by deselecting it. Can purchase or sell up to 99 items at the time.
Players can sell their items by clicking the SELL ITEMS button on the top right and you can go back purchasing items by clicking the PURCHASE ITEMS button. They cannot sold the following items: Energy, Challenge Point, Simulator Point, and research items (e.g. Blueprint: Infiltrator's Power Armor). They also cannot sold the equipped weapon, unless they unequipped it.
For limited edition items, see Limited Edition Items.
Ranged
Icon
Name
Cost
Sell
Required

The Experiment

30
250

Lightning Rod

64
(?)

Mutant's End

20
250

P.E.W. "Quell"

80,040
17
(?)
Agent level 97


Ionized Inductance

P.E.W. "Raze"

110,940
19
(?)
Agent level 93


Fractal Flares

P.E.W. "Attenuator"

80,040
17
4,010
Agent level 78


Area Incapacitation

P.E.W. "Eradicator"

74,540
17
4,010
Agent level 74


Rapid Atomization

Hex Wand

64
800

Iso Loaded Scattergun

15
800

Mindkiller

15
250

P.E.W. "Stoic"

55,040
15
2,760
Agent level 70

P.E.W. "Zealous"

52,640
15
(?)
Agent level 58


Plasma Dischargers

Inhibitor Dart Gun

52
800

Skullripper

10
250

A.R. "Spectre"

41,040
13
2,060
Agent level 49


Tactical Service Rifles

Tesla SP-Arc

37,740
13
1,890
Agent level 46


Electroshock Weaponry

Target Pistol

36
250

The Toolbox

26
250

Tsunami Fist

32,440
12
(?)
Agent level 41


Kinetic Projection

Phosphorus Pang

27,440
11
1,380
Agent level 37


Incendiary Munitions

Transcranial Stimulator

32
800

S.A. "Pincer"

25,540
11
(?)
Agent level 35


Service Side Arms

Target Pistol

44
800

Annihilator

40
(?)
Agent level 80

Deep-Field Cannon

44
480
Agent level 70

A.R. "Striker"

19,240
10
970
Agent level 28


Lightweight Assault

S.A. "Siege"

15,840
9
800
Agent level 25


Selective Fire

Quickdraw 40

52
800
Agent level 50

Assault Shotgun

10,540
8
530
Agent level 18


Combat Shotguns

Batstone 2.357 Minigun

39,360
8
1,970
Agent level 18

.50 Anti-Materiel Rifle

30
(?)

SI PDW11

24
(?)

S.A. "Ambush"

9,140
7
(?)
Agent level 58


Plasma Dischargers

Rosado-15

18
(?)
Agent level 15

Psyche Blaster

16
(?)
Agent level 10

Single-Shot Thumper

21,760
6
1,090
Agent level 11

Sub-0 Optics Military Rifle

4,940
6
(?)
Agent level 10


Precision Rifles

Grenade Revolver

4,440
5
(?)
Agent level 2

El Diablo

12
150
Agent level 2

B&F MP-2

4,440
5
890
Agent level 9

Screaming Eagle .50

11,760
5
590
Agent level 6

S.A. "Skirmish"

2,540
4
(?)
Agent level 5


Tactical Pistol

"Barking Dog" Shotgun

2,140
4
(?)
Agent level 4


Smoothbore Firearms

WMI T'Cha

5,360
3
270
Agent level 2

Spirit-76

2,160
1
110
Agent level 2

Needle Gun

300
1
20
Agent level 2
Melee
Icon
Name
Cost
Sell
Required

Anklebiter

32
800

Tyrant Blade

91,340
18
4,870
Agent level 89


Plasmic Stability

Energy Fist

91,340
18
4,570
Agent level 85


Plasmic Stability

Vibra-Shotel

69,140
16
3,460
Agent level 70


Augmented Vibranium

Frag Bracer

62,640
16
3,140
Agent level 66


Composite Arms

Ironstar

32
800

Vibra-Trumbash

50,240
14
2,520
Agent level 56


Vibranium Blades

Sonic Fist

25
250

Cat's Claw

36
800

Voltage Crash

50,240
14
2,340
Agent level 54


Localized Electric Stun

Taste of Thunder

36
250

Enchanted Crowbar

52
250

Monofilament Blade

35,640
13
1,790
Agent level 44


Molecular Engineering

Crystal Shiv

36
800

Traumatic Post

52
800

Brutal Claw

20,040
10
1,010
Agent level 29


Experimental Katara Tech

Cryo-Tonfa

14,240
9
720
Agent level 23


Cryogenic Defense

Cauterizer

36
(?)
Agent level 65

Crescent Flayer

36
(?)
Agent level 55

Tidal Fist

12,040
8
610
Agent level 20


Kinetic Amplifiers

Time Touch

28
(?)
Agent level 40

Chain Blade

34,160
7
1,710
Agent level 16

The Finisher

22
(?)
Agent level 25

Pyro-Tonfa

7,840
7
(?)
Agent level 14


Pyrokinetic Defense

Knuckle Sting

7,840
7
1,450
Agent level 14

Booster-Sledge Prototype

14
(?)
Agent level 10

Feral Claw

12
(?)
Agent level 2

Circuit Breaker

28
(?)
Agent level 2

Hidden Blade

13,760
5
(?)
Agent level 7

Tactical Tonfa

2,940
5
(?)
Agent level 6


Personal Defense

Survival Knife

10,160
4
510
Agent level 5

Katana

1,740
3
90
Agent level 3


Advanced Blades

Retractable Baton

1,740
3
(?)
Agent level 3

Seiken Strike

2,960
2
(?)
Agent level 3
Gadget
Icon
Name
Cost
Sell
Required

Quantum Capacitor

118,740
20
(?)
Agent level 102


Temporal Warping

Paladin Array

85,640
17
4,290
Agent level 82


Preemptive Defenses

Sudden Support

58,840
15
2,950
Agent level 63


Quantum Overdrive

Digital Decoy

44,440
14
2,230
Agent level 52


Stasis Fields

Laser Spotter

29,440
12
1,480
Agent level 39


Target Painting

Overwatch

21,840
11
1,480
Agent level 31


Rapid Response

Heroic Call

39
(?)
Agent level 75

Curative Reach

17,540
10
880
Agent level 17


Medical Response

Quantum Jumper

36
450
Agent level 60

Offensive Accelerator

12,740
9
640
Agent level 21


Force Manipulators

Construct Matrix

26
(?)
Agent level 35

Third Law Nullifier

9,840
8
500
Agent level 17


Kinetic Stabilizers

Force Field Generator

31,360
7
1,570
Agent level 15

Chrono Overdrive

20
(?)
Agent level 20

Nano-nurse

7,240
7
370
Agent level 13


Rejuvenating Energy

Precision Focus Aperture

6,640
7
250
Agent level 12


Advanced Targeting

Infinite Injection

12
(?)
Agent level 2

Aegis Defender

19,760
6
(?)
Agent level 10

Remote Jet Injector

15,360
5
(?)
Agent level 10

Early Warning Detector

3,440
5
(?)
Agent level 7


Sensory Perception

Digital Spotter

8,560
4
430
Agent level 4
Generalist
Edit
Generalist

Icon
Name
Cost
Sell
Required

Generalist's Kevlar Jumpsuit

2,000
3
(?)
Agent level 3

Generalist's DermoSteel Jumpsuit

8
(?)
Agent level 3

Generalist's BetaCloth TechSuit

12
(?)
Agent level 20

Generalist's Nanolaire TechSuit

10,000
6
(?)
Agent level 20

Generalist's SpecOp Impact Suit

16
(?)
Agent level 35

Generalist's Recon2 Impact Suit

40,000
10
(?)
Agent level 35

Generalist's SpecOp Impact Suit

19
(?)
Agent level 50

Generalist's Recon2 Impact Suit

68,000
15
(?)
Agent level 50

Generalist's Commander Trench

22
(?)
Agent level 65

Generalist's Reinforced Trench

100,000
20
(?)
Agent level 65

Generalist's Empowered Armor

100,000
20
(?)
Agent level 60


Generalist's Empowered Armor
Blaster

Icon
Name
Cost
Sell
Required

Blaster's Kevlar Jumpsuit

2,000
3
(?)
Agent level 6


Blaster Research I

Blaster's DermoSteel Jumpsuit

10
(?)
Agent level 3

Blaster's BetaCloth TechSuit

14
(?)
Agent level 20

Blaster's Nanolaire TechSuit

10,000
6
(?)
Agent level 21


Blaster Research II

Blaster's SpecOp Impact Suit

18
(?)
Agent level 35

Blaster's Recon2 Impact Suit

40,000
10
(?)
Agent level 36


Blaster Research III

Blaster's SpecOp Impact Suit

21
(?)
Agent level 50

Blaster's Recon2 Impact Suit

68,000
15
(?)
Agent level 51


Blaster Research IV

Blaster's Commander Trench

24
(?)
Agent level 65

Blaster's Reinforced Trench

100,000
20
(?)
Agent level 66


Blaster Research V

Blaster's Power Armor

100,000
20
(?)
Agent level 60


Blaster's Power Armor

Blaster's Aegis Armor

100,000
20
(?)
Agent level 60


Blaster's Aegis Armor

Blaster's Empowered Armor

100,000
20
(?)
Agent level 60


Blaster's Empowered Armor
Bruiser

Icon
Name
Cost
Sell
Required

Bruiser's Kevlar Jumpsuit

2,000
3
(?)
Agent level 9


Bruiser Research I

Bruiser's DermoSteel Jumpsuit

10
(?)
Agent level 3

Bruiser's BetaCloth TechSuit

14
(?)
Agent level 20

Bruiser's Nanolaire TechSuit

10,000
6
(?)
Agent level 23


Bruiser Research II

Bruiser's SpecOp Impact Suit

18
(?)
Agent level 35

Bruiser's Recon2 Impact Suit

40,000
10
(?)
Agent level 39


Bruiser Research III

Bruiser's SpecOp Impact Suit

21
(?)
Agent level 50

Bruiser's Recon2 Impact Suit

68,000
15
(?)
Agent level 54


Bruiser Research IV

Bruiser's Commander Trench

24
(?)
Agent level 65

Bruiser's Reinforced Trench

100,000
20
(?)
Agent level 69


Bruiser Research V

Bruiser's Power Armor

100,000
20
(?)
Agent level 60


Bruiser's Power Armor

Bruiser's Aegis Armor

100,000
20
(?)
Agent level 60


Bruiser's Aegis Armor

Bruiser's Empowered Armor

100,000
20
(?)
Agent level 60


Bruiser's Empowered Armor

Bruiser's Empowered Armor

100,000
20
(?)
Agent level 60


Bruiser's Safeguard Suit
Infiltrator
Edit
Infiltrator

Icon
Name
Cost
Sell
Required

Infiltrator's Kevlar Jumpsuit

2,000
3
(?)
Agent level 7


Infiltrator Research I

Infiltrator's DermoSteel Jumpsuit

10
(?)
Agent level 3

Infiltrator's BetaCloth TechSuit

14
(?)
Agent level 20

Infiltrator's Nanolaire TechSuit

10,000
6
(?)
Agent level 21


Infiltrator Research II

Infiltrator's SpecOp Impact Suit

18
(?)
Agent level 35

Infiltrator's Recon2 Impact Suit

40,000
10
(?)
Agent level 37


Infiltrator Research III

Infiltrator's SpecOp Impact Suit

21
(?)
Agent level 50

Infiltrator's Recon2 Impact Suit

68,000
15
(?)
Agent level 52


Infiltrator Research IV

Infiltrator's Commander Trench

24
(?)
Agent level 65

Infiltrator's Reinforced Trench

100,000
20
(?)
Agent level 67


Infiltrator Research V

Infiltrator's Power Armor

100,000
20
(?)
Agent level 60


Infiltrator's Power Armor

Infiltrator's Aegis Armor

100,000
20
(?)
Agent level 60


Infiltrator's Aegis Armor

Infiltrator's Empowered Armor

100,000
20
(?)
Agent level 60


Infiltrator's Empowered Armor

Infiltrator's Empowered Armor

100,000
20
(?)
Agent level 60


Infiltrator's Safeguard Suit
Scrapper

Icon
Name
Cost
Sell
Required

Scrapper's Kevlar Jumpsuit

2,000
3
(?)
Agent level 10


Scrapper Research I

Scrapper's DermoSteel Jumpsuit

10
(?)
Agent level 3

Scrapper's BetaCloth TechSuit

14
(?)
Agent level 20

Scrapper's Nanolaire TechSuit

10,000
6
(?)
Agent level 25


Scrapper Research II

Scrapper's SpecOp Impact Suit

18
(?)
Agent level 35

Scrapper's Recon2 Impact Suit

40,000
10
(?)
Agent level 40


Scrapper Research III

Scrapper's SpecOp Impact Suit

21
(?)
Agent level 50

Scrapper's Recon2 Impact Suit

68,000
15
(?)
Agent level 55


Scrapper Research IV

Scrapper's Commander Trench

24
(?)
Agent level 65

Scrapper's Reinforced Trench

100,000
20
(?)
Agent level 70


Scrapper Research V

Scrapper's Power Armor

100,000
20
(?)
Agent level 60


Scrapper's Power Armor

Scrapper's Aegis Armor

100,000
20
(?)
Agent level 60


Scrapper's Aegis Armor

Scrapper's Empowered Armor

100,000
20
(?)
Agent level 60


Scrapper's Empowered Armor

Scrapper's Empowered Armor

100,000
20
(?)
Agent level 60


Scrapper's Safeguard Suit
Tactician
Edit
Tactician

Icon
Name
Cost
Sell
Required

Tactician's Kevlar Jumpsuit

2,000
3
(?)
Agent level 8


Tactician Research I

Tactician's DermoSteel Jumpsuit

10
(?)
Agent level 3

Tactician's BetaCloth TechSuit

14
(?)
Agent level 20

Tactician's Nanolaire TechSuit

10,000
6
(?)
Agent level 23


Tactician Research II

Tactician's SpecOp Impact Suit

18
(?)
Agent level 35

Tactician's Recon2 Impact Suit

40,000
10
(?)
Agent level 38


Tactician Research III

Tactician's SpecOp Impact Suit

21
(?)
Agent level 50

Tactician's Recon2 Impact Suit

68,000
15
(?)
Agent level 53


Tactician Research IV

Tactician's Commander Trench

24
(?)
Agent level 65

Tactician's Reinforced Trench

100,000
20
(?)
Agent level 68


Tactician Research V

Tactician's Power Armor

100,000
20
(?)
Agent level 60


Tactician's Power Armor

Tactician's Aegis Armor

100,000
20
(?)
Agent level 60


Tactician's Aegis Armor

Tactician's Empowered Armor

100,000
20
(?)
Agent level 60


Tactician's Empowered Armor
Offense
Icon
Name
Cost
Sell
Required

Runed Metal

3
250

Infernal Fang

2
30
Agent level 3


Infernal Fang

Mad Tech

3
250

Cold Iron

4
250

Plasma Tube

3
40

Spacetime Shard

1
500

Irradiated Repulsor

2
90

Asgardian Armband

2,000
10
250
Agent level 3


Asgardian Armband

Vibranium Frag Grenade

2,000
10
250
Agent level 3


Vibranium Frag Grenade

Dark Elf Mask

2,000
10