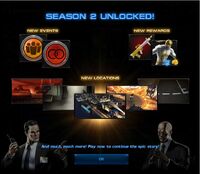 "Complete all tasks, deploys, heroic battles, incursions, epic bosses, and challenge modes in a chapter to complete it.
Completing a chapter will grant awesome rewards!"
— S.H.I.E.L.D. Intel
Chapter Mastery
Edit
Each chapter has a number of requirements to be completed in order to fully master it. These requirements are:
Mastering all the requirements yields various rewards for the player.
Mission Difficulty
Edit
Each Missions, with a couple exceptions, now permanently set the difficulty to the Agent level when the Mission was first played and completed. This means that for example, a Level 100 Agent runs Mission 1 of Season 2 for the first time, the difficulty is permanently set to Level 100 even when the Agent has Leveled up since.
This change does not affect Premium Missions, as their difficulty is still set to the current Agent's Level. Missions that are set to Challenge Mode are also not affected, as the difficulty is set to the current Agent's Level plus 10 Levels.


Story: Season 2 and its first Chapter premiered on August 1, 2013.
Chapter 2 - Crazy Eights premiered on October 15, 2013.
Chapter 3 - Crisis of Leadership premiered on November 27, 2013.
Chapter 4 - Globetrotting premiered on March 11, 2014.
Chapter 5 - Spot Treatment premiered on May 1, 2014.
Chapter 6 - When Opportunity Knocks premiered on July 2, 2014.
Chapter 7 - Crest of the Wave premiered on October 16, 2014.
Chapter 8 - Trial By Fire premiered on March 13, 2015.
Chapter 9 - Signs of the End premiered on August 14, 2015.
Chapter 10 - Strength of Fear premiered on February 23, 2016.
Chapter 11 - Rise of the Serpent premiered on August 17, 2016.
Chapter 12 - Fear Itself premiered on August 26, 2016.
Pre-release Notes
Edit
Main article: Story: Season 2/Notes
Community content is available under
CC-BY-SA
unless otherwise noted.